Just a little reminder that if you're still curious about my new studio space I'll be posting lots of photos late tonight for the big 2nd Annual "Where Bloggers Create" party. If you haven't heard about it just click on the button below....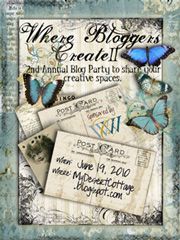 and it should take you to the blog where you can find out all the details. I've spruced up and tidied and I think everything is ready so I hope you'll all come back for a peek inside my new studio space.
Other than that I just have one piece of art to show you....
This is a large size post card that I made for a blogging friend. She received it so I can show it now. This was a fun one to make and somehow, just slightly makes me think of Alice in Wonderland....I think it's the rabbit and the hearts.
See you later tonight....