Hi everyone....did you think I gave up on blogging? Nope, but I think I give up on ever moving my studio again! WHAT A JOB!!! And add in the fact that my back gives me trouble and it became a tremendous undertaking. I think I might need an undertaker by the time I finish!!
I had planned to show you my "after" photos either today or tomorrow but I think they might have to wait a bit longer. For one, I'm still not finished (!!) and two, I just found out about a show-me-your-studio project that I had to join. It's the 2nd annual "Where Bloggers Create" party on June 19th held at
My Desert Cottage
.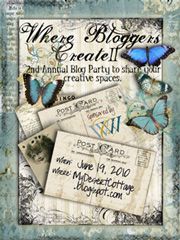 There are lots of great prizes and it's a perfect incentive for me to
finally
get this project finished!!!!
I will give you some tidbits of the progress though....
Besides getting the studio finished there is lots of other stuff going on in my life that takes me away from the computer. Right now just seems to be an extra busy time. And my collage mail swap is coming to a close tomorrow so you only have one more day to join in. I'll be posting a list of the participants and sending out emails with your partners name and address on Tuesday afternoon or early evening. Until then, please don't forget about me....I know I haven't been a good blogger recently but I still love you all. And I MISS YOU!!!!!