The big day is finally here. I can hear you now...."what big day?" Did you forget?? It's the 2nd annual "Where Bloggers Create" party!! Remember, I told you about it. In case you forgot you can learn more by clicking on that little logo below and you'll also see a list of everyone who is participating.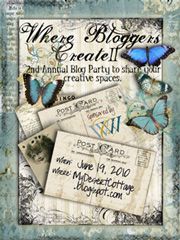 I hope you wore your party clothes 'cause this is gonna be fun!
Help yourself to cake....
and grab a glass of bubbly....
and let's get started.
I recently moved my studio from an upstairs, very secluded room to a room on the main floor right in the center of the house. You enter off the main hallway and it's not a very big room - only about 10' x 10' excluding the office alcove but I think we've made the most of it....
This is my main work table. HB made it with two kitchen base cabinets and a door....he took the doors off the cabinets because I thought it would be much handier....and it is!
and here's a close up of that area. HB put up all the shelves and one of these days I'll get them painted but for now they work just fine. All my mediums and artist's paints are on the shelf right above the table....
I have some gifts from bloggers on the wall right next to my work table....I like to be able to see them. They inspire me....
This is the underneath cabinet on the right side of my work table. It has drawers that hold images and other ephemera.
The left side cabinet holds pads of paper and some canvases....stamps on the bottom shelf....
Under my work table is another set of drawers. At the moment there isn't much in them but I'm sure they will be full soon!
This bookcase is to the left of my work table. It holds some of my mixed media books plus other supplies....
In the picture above can you can see that uppermost shelf....it goes almost completely around the room and is great for things I don't use often.
Directly behind me as I sit at the work table is this stack of drawers. They hold tape, crayons, watercolors and more supplies....
Over the window I have some of my art journals and some more gifts from friends and bloggers....
Underneath the window I have a small table that holds my paintbrushes and a carousel of craft paints.
To the right of that little table is the office alcove....
I love having the desktop computer, the printer and scanner all in the studio with me. There's a bookcase to the right of my desk area....it holds some office supplies, and a shelf of blank journals....
Also in that bookcase are all my "artsy" magazines....
Behind that bookcase is my sewing/clean work table. You can see "Hedy" over in the corner....she's my mannequin head and she keeps watch over me....
I have another bookcase in that area....it has mostly books but one shelf has beads. This room has double doors but I didn't think I needed to use them so I blocked one door with a bookcase. I needed storage more than I needed an extra door....
Ok, that concludes the tour of my little studio. Thank you for stopping by. I hope you enjoyed it and will come back to visit me again....I'm usually right here painting or drawing. Here's a little peek at some things I'm working on....
In a few days I'll be showing more of them to you. Until then, bye....see you soon!!